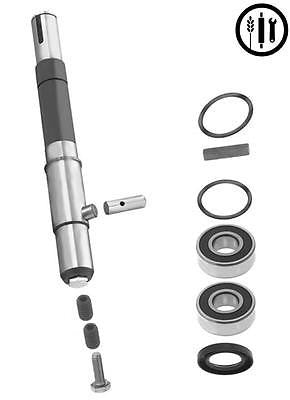 Hobart Mixer H600 and L800 Agitator Shaft Rebuild Kit without Pinion Gear
Regular price $1,363.37 $500.00 Sale
Replaces Hobart Part Numbers:
Hobart 00-913102-00311 Kit
00-064137-00002 Agitator Shaft Assy

RR-005-08 Retaining Ring, Agitator Shaft

00-074288 Key, Internal Pinion

00-067500-00021 "O" Ring, Agitator Shaft

BB-006-36 Ball Bearing, Upper Agitator Shaft

BB-007-39 Ball Bearing, Lower Agitator Shaft

00-024651 Seal Planetary

00-060071 Cap, Oil Retaining (not pictured)
Will not fit Legacy series mixers.
May not fit mixers older than 1985, please check your mixer's ML number with Hobart before ordering
This part is an aftermarket part not an original Hobart part.
We use this part in our refurbished mixers, buy with confidence!